Festive Tips To Decorate Your Beauty Home For Christmas
It's a beautiful season, and there's a chill in the air, but we're warmed by the love, kindness and joy of the holidays. While you may still be trying to figure out what to get your loved ones and what to get for the perfect Christmas meal, but don't leave your home empty. After all, spending quality time with family and friends is what Christmas is all about. With a little inspiration, it doesn't take much to turn your living space into a veritable wonderland this year.
Transform Your Living Room With The Magical Touch Of Christmas
The quintessential Christmas show stopper is, of course, the tree! Standing tall, topped off with a sparkling golden star or delicate-winged angel, the tree embodies the Christmas spirit. Christmas Pine Cone & Red Berry LED String Lights are designed to make your home cosy and full of life in the winter months! Ornaments boasting family pictures, handmade felt hanging decorations and hand-painted wooden and glass baubles will elevate your tree and give it real character.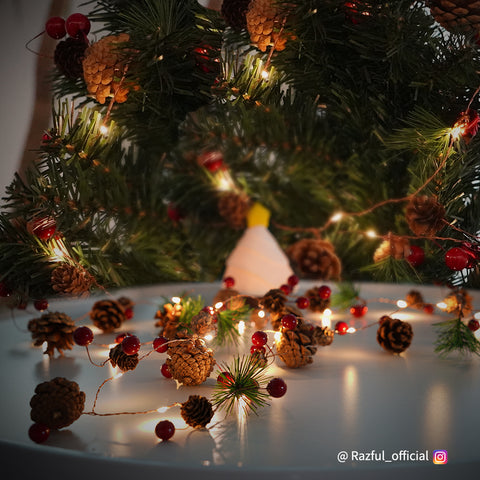 And today I'm going to share the favorite Christmas decor in my house, Christmas Pine cone light!  As usual the star of the show in here is the crimson tinsel tree and chandelier full of vintage ornaments. The deep color of this Christmas tree is so unique and I love the way the ornaments pop against it. With these Christmas Pine cone light to decorate your Christmas tree with your family and friends, and light up the lights to make your Christmas more beautiful. Pine cones and red fruit string lights are essential decorations for Christmas. They represent the harvest of lights as a celebration of Christmas.This room is such a mix of rustic and glam so I love to play that up each year with the metallic ornaments, sparkly garlands, and plenty of gold!  I don't think I will ever get tired of this vintage chandelier full of vintage ornaments either!  I'm so happy to have them because they are each so unique, intricate, and beautiful.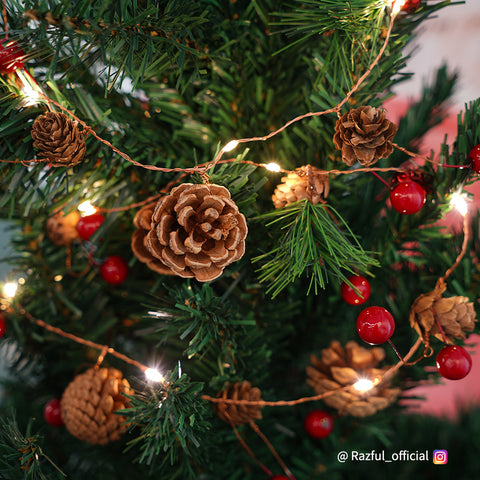 If your living room is small and cannot accommodate a towering Christmas tree, worry not. You can always opt for a tabletop tree or a tree in a jar. Minimalistic and fun! While wrapping gifts to stack under the tree go with a colour theme – you can choose from classic Christmas tones or opt for something different to up the kitsch factor!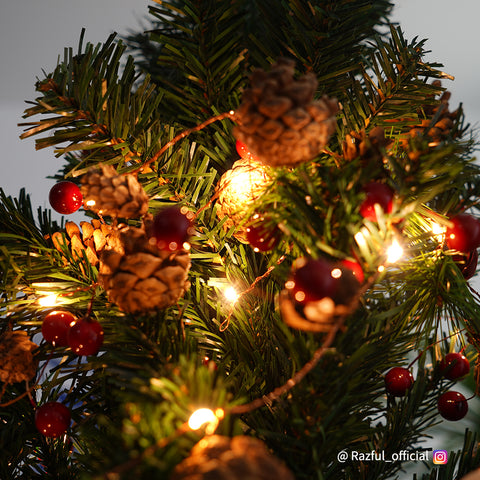 These tiny little touches and tweaks to the mundane can spruce up your home and help you create the ideal setting for a cosy Christmas. Be ready to welcome love, joy and peace into your home this holiday season and, of course, maybe even Santa Claus too!  If you're looking for special Christmas decor with good price, I encourage you to go Razful!